EDC Vegas is the perfect opportunity to sport an imaginative and eccentric outfit alongside thousands of other festival goers clothed just as eye-catching as you. Take advantage of expressing yourself in this moment and put together something lively, peculiar, crazy, flashy, or just plain ludicrous.  EDC is unique in that you'll find some of the most exceptional and remarkable choices of attire, so go all out and don't hold back. Chances are, whatever outfit you wore to another festival would be considered lifeless and mundane compared to what you'll witness at EDC.
Firstly, you'll want to consider the climate and dress code. Overall, there aren't really any rules or limits with what to wear inside the festival grounds, with the exception of LED microlights for light shows, pacifiers, and dust and gas masks. As far as the weather goes, Vegas in June is historically known for sunny temperatures in the 100s and up. That makes it all the better to uncover some skin to keep cool. Now that we've prepared for what's certain, below are a few ideas to get you inspired for your costumes.
Cosplay
Why not rave vicariously through your favorite comic book, video game, or anime personality? From Chuckie Finster of Rugrats to Sailor Mars of Sailor Moon, use your favorite character as an inspiration for your outfit.
Group
Expressing yourself with a costume is even more fun when you can do it with loved ones. Match or coordinate your outfit with your best friends or significant other.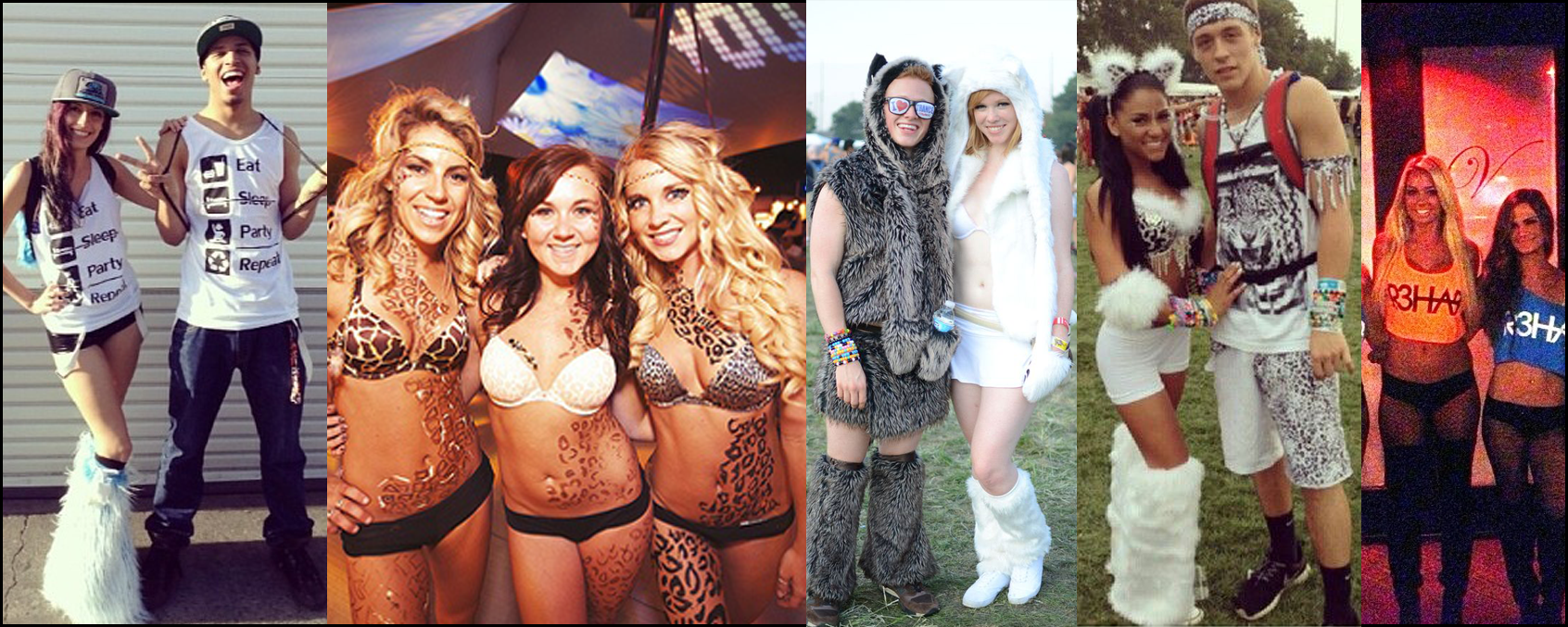 Practically Nothing
Let your body be free and spare the costume. Pasties are quite popular at EDC and allow you to feel naked. And who doesn't like that!?
Festive
Flower child, bohemian, hippie – whatever you want to label it. A more laid back appeal, but still festive and comfortable.
LED/Glow
Looks awesome at night and you can customize the colors and shapes. Also a sure way to never lose your group of friends as you'll be easy to locate. Here is a really great tutorial for help on making your own LED costume. Also, I personally like to pair  Stila 'After Glow' lipstick with matching black light clothing or a light up daisy crown.
Kandi
Display your crafty side or show off the kandi you've traded over the years of raving. Or just straight up skip the clothing and wear a beaded dress. Kandi Patterns has tons of useful tutorials.
DIY
Show off your creativity with a one-of-a-kind outfit that you painted, dyed, or stitched together. From signs and headdresses to totems and tutus. Here is a really helpful tutorial on how to successfully create a macrame crop top, similar to the black top in the photo on the very right. I also like Runway DIY for helpful instructions and ideas.
Everything-in-Between
Don't forget the obligatory raving Gumby.
You'll also find lots of EDC suitable clothing at online stores such as Electric Laundry, Rave Ready, Dolls Kill and my personal favorite Black Milk.